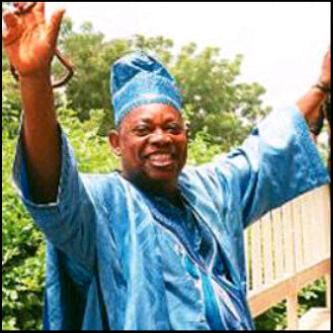 For several years I have been an unrepentant supporter of Ex-President Goodluck Jonathan, GCFR and his party, PDP. As a child born into the traditional 'progressive' family, I decided to pitch my tent with the more conservative party, the PDP from 1999 following my personal conviction and ideology about politics.
My father is one of the leaders of APC in my local government. He always respects my decision not going with him despite the fact that I travelled home for every election. We vote at the same polling unit but for different parties. That did not affect our relationship in any way. Each time he mentioned it, I told him, "that is your dividend for sending me to school'' and we laugh over it.
I thought there is something called Ideology in politics but for 19 years, I was wrong. In Nigeria, politicians don't have ideology; to them politics is a business, whichever party they can trade in profitably is where they pitch their tent.
I was nearly running amok when Senator Musliu Obanikoro dumped PDP for APC. I was ready to go all out insulting him both in public and in private. He got to know about my disappointment about his decision and he sent words to me through one of his aides. I got his message perfectly.
I love ex-Governor Adebayo Alao Akala with a passion. In 2011, when I was not even in Nigeria, I made sure he was aware of my support. When I came back to Nigeria in 2014, I quickly enrolled with the Team Akala. He lost the PDP ticket and without question, I followed him to the Labour Party, where my friend says "we went to labour in vain". To me, that was just following a leader I shared in his political ideology. We lost the election in Labour Party. Our Boss, without much consultation, hurriedly pitched his tent with the ruling APC. When I protested, my direct boss in Team Akala just smiled and told me "that is where the action is now". I was left naked on the street, nursing my wounds of political ideology.
The introduction was just to let you know that when I believe in something, I hardly back down on it. I was so conservative, even to my own disadvantage.
Back to the issue of Goodluck Jonathan and why I think we should all hate him. When President Buhari decided to honour Chief MKO Abiola and proclaim June 12 as the real democracy day, I was so furious at the acceptability of the gesture. I called it so little too late. Day by day, everyone seemed pleased with the idea. I became a minority in my opinion. It is not always good to be in the minority. I kept my disapproval to myself and went back to my library to study. My findings show that I should blame it on Jonathan. He was too weak a leader. We should all hate him. His weakness brought us Buhari ,the 80 something year old man who is not in tune with modernity and lacks the smartness to rule a country as diverse as Nigeria, that was three years ago.
Now, his weakness has also made Buhari the hero of June 12, an honour Buhari could never think of. Buhari was part of the military elites that vehemently opposed MKO's Presidency. Today, he is the hero, courtesy of Goodluck Jonathan.
Jonathan could have be the Hero in 2014 when he renamed the prestigious University of Lagos after MKO Abiola. That was an honour I believe is greater than GCFR. Jonathan was so chicken hearted; he bowed to the little pressure from the media and the misinformed public. The media, which are largely controlled by Asiwaju Bola Tinubu, the opposition leader, are the peoples Bible. Jonathan changed his mind robbing himself the honour and to the hurt of those of us who believed in him.
That was not the first time Jonathan will displayed such weak leadership style. In 2012, his government proposed the introduction of N5000 note. The Asiwaju media, as usual, sets the agenda against the idea. People who do not even know the economy of currency started shouting hell no. At that time, Jonathan was having a very brilliant banker, Sanusi Lamido Sanusi, as the Central Bank Governor. That idea couldn't have being as bad as portrayed by the media. Jonathan backed down on the idea causing the state of Nigeria God knows how much financial loss. He also robbed Margaret Ekpo, Hajia Gambo Sawaba and Funmilayo Ransom Kuti the honour forever.
In 1987 when President Babangida renamed the Great University of Ife after Obafemi Awolowo, there was massive protest in USA, UK, Lagos, Ibadan and Ile Ife. There was even an unconfirmed report that one person died during the protest. The good President, Babangida, never changed his mind. The name stands till date and to the glory of Awolowo and his supporters. Awolowo was also GCFR but I don't know when last did any of my brothers hailers added that to Awolowo's name when referring to him. There is Obafemi Awolowo University, which will exist till the end of time.
June 12 is not about the Yorubas. We are not the only one who voted for MKO Abiola. We only regionalised the struggle, to the jealous of other regions, forgetting that we are all causalities of the annulment and someone is playing the card to us now. I only hope he gives us our CHANGE this time.
However, I am sure that is not what MKO Abiola actually wanted. He wanted to be President, yet he was called "the Presumed Winner" in the honour sermon and the people still shouted for joy.
In conclusion, I think President Buhari is Nigerian's luckiest President, luckier than the President who even have lucky as part of his name. He gets away with everything or almost everything. He can increase the fuel pump price to N250 and reduce the minimum wage to N7500, we won't mind. His supporters are die hard and many. "If Buhari says it, it must be right'' and you either stand with Buhari or you are corrupt.
Probably, this is a golden opportunity for Nigeria, a sickening nation that needs lots of tough decisions and actions to get back to its track. If President Buhari can make use of this moment to take more tough decisions on our Manufacturing sector, Agriculture, Importation, Boarder control, Health care, Education, Security and re-organise our ineffective institutions (the civil service), he could be that Messiah. However, he needs to act faster; he has less than 10 months, before we all decide to hate him or not, because no ex-president gets lucky at the end.