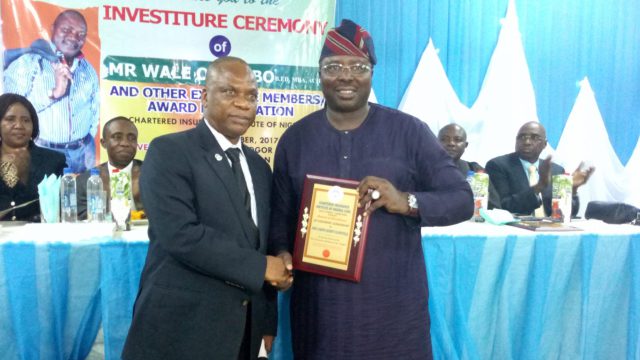 THE Chartered Insurance Institute of Nigeria, CIIN, Oyo state chapter on Thursday at the investiture of its new executive members honoured the State Commissioner for Education, Science and Technology, Professor Adeniyi Olowofela with its 2017 Award of Excellence in visionary leadership.
The award was conferred on Olowofela in recognition of his invaluable contribution to education in the state.
The investiture ceremony/award presentation which was held at the Functions Hall of Jogor Center, Ibadan had in attendance top players in the insurance industry, scholars, corporate heads, business magnates, politicians and eminent personalities amongst others.
The Chairman, Investiture Planning Committee, Prince Adekunle Akinpelu while welcoming the guests said, "I felicitate with the awardees and in picking the awardees, the Chairman said he was not motivated by money because it is not for sale but it is about leaving an impact and recognizing what these people have done in their various fields which directly or indirectly have had positive impacts on our industry".
In his valedictory speech, the outgoing Chairman of the institute, Mr. Falade Olugbenga said he was greatly touched by the unfettered support and honour bestowed on him by all the members of the chapter during his tenure.
Also, he noted that his emergence in 2012 was never by accident but divine. "We promised that Oyo State chapter would recapture its glory and that we would leave it better when we bowed out. This promise has been fulfilled beyond our expectation, to the admiration of all our members even beyond the state and is still being fulfilled".
Despite these achievements however, he further expressed his displeasure over the slipshod ness of members who failed to take advantage of the lecturers to prepare for the CIIN exams.
He laments :" Three times we have spent money to start lecture centres for them and three times they have failed to explore the great opportunity. Yet some still travel to Lagos for preparatory classes ".
Falade, therefore craved member's support to make his tenure a child's play to the incoming one with greater support.
Also speaking, the newly installed Chairman of the chapter, Mr Wale Oladebo in his acceptance speech noted, " I see this as a very big challenge at the same time as an avenue and wonderful opportunity to serve both the chapter and institute as a whole".
While promising to strive hard towards taking the chapter to a greater height, Oladebo recalled that his involvement in the institute activities was dated to 2010 when he was transferred to Ibadan which was coincidentally about same period the immediate past chairman was equally transferred to Ibadan.
"Both of us being activists, we decided to join hands with the then Chairman, Mr Dapo Ajidagba to mobilize members to meetings. By so doing inject life back into the chapter.
" As key members of the immediate past executive, we initiated programmes that arose members interest and we were able to achieve many feats which made the chapter to be adjudged by the National body as the best organized chapter till date. This position we will not relinquished but will improve upon it with laid down programmes and activities that will benefit our members", he assured.