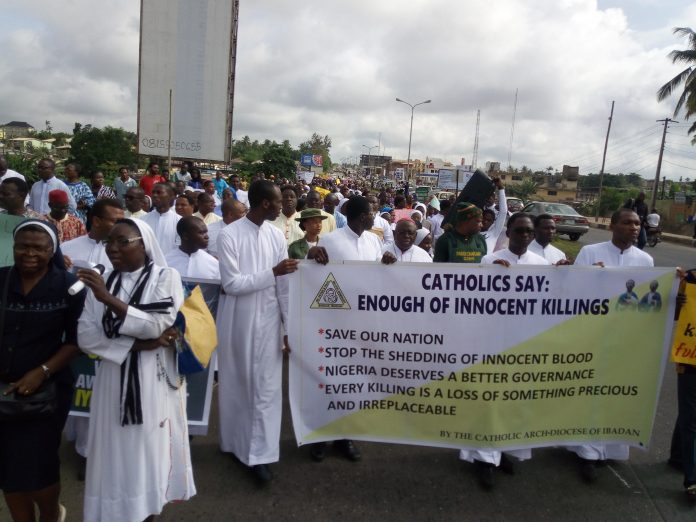 The Catholic Archdiocese of Ibadan today joined their counterpart in Nigeria to stage a peaceful protest against the incessant killings of Nigerians by gunmen.
The protest which was led by Archbishop Gabriel Abegunrin, The  Archbishop of Ibadan  diocese took off at SS peter and Paul Catholic Seminary  Bodija with thousands of members and priest  to the government secretariat where they presented a letter the state governor Senato  Abiola Ajimobi.
They carried placards with various inscription written in Yoruba and English, demanding for justice and stoppage of incessant killing  of Christians
Abegunrin in his speech decries the incessant killing and attitude of Security agencies  and  President Muhammadu Buhari to the attack on human lives in the country.
According to him since the killings of 2 priest and 17 parishioners on the 24th of April ,  no words of sympathy or consolation has been addressed to the catholic community in Nigeria  for the loss which he said is a very serious indictment on  the present administration.
" We are baffled and highly disappointed  with this insensitivity. The perpetrators of this dastard act  are human beings and not spirits from the metaphysical  world; they live with us, they are in our midst, it is sickening  to note that almost one months after the ugly incident, no one has been brought to book, a situation which is unacceptable".
" This protest and prayerful demonstration is  to register  our displeasure on this killings and at the same time to call on the leadership of this country  to act urgently  on this .Our security apparatus  and architecture must  be urgently worked on to act and if  the leadership  of  the this security agencies  are not able to arrest the situation, they should immediately be relieved  of their duties".
Abegunrin  noted further that the way the issue is being handled " gives room for  suspicion  of complicity  between these killer –terrorists and  the agencies"
" Since the president who  appointed the Heads of  Nation Security agencies  has refused  to call them to order, even in the face of the chaos and barbarity into which our country has been plunged, we are left with no choice but to conclude that they are acting a script that has  been approved of".
" If the president cannot  keep our country safe, then he automatically loses the trust of the citizens, He should no longer  continues to presides over killings  fields and mass  graveyard that our country has become"
The church argued that repeated calls  from many sector on president to take urgent steps to reverse  the ugly tragedy that threatens the foundation of our collective  existence  and unity as a nation has fallen on deaf ears .
The  Chief of Staff to the Governor Dr.Gbade Ojo  who  received the church  on behalf of the governor Senator Abiola Ajimobi said ' it is unfortunate that  we found ourselves in this situation as a Nation, Nigeria is bless with many tribes but what we are experiencing  today Is manifestation of failure of  National Integration  and a sign that we are not developing  very fast as we should, it is imperative that we learn how to live together as one' he concluded
He however promised to deliver church's message to  Governor Ajimobi, the state House of Assembly and President Muhammadu Buhari through the state governor