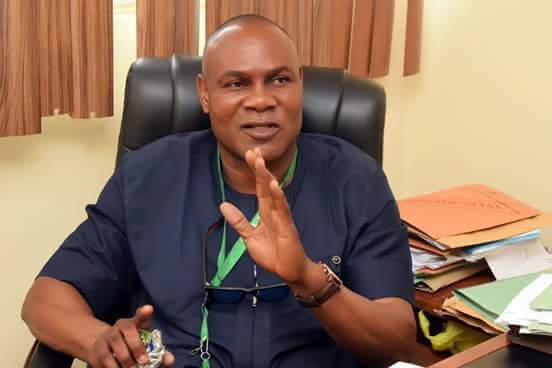 Friday 17th August 2018, Olubunmi Christopher Ojo, humanist and a loved son of Ido Ekiti was committed to mother earth amidst an admixture of anger and despair.
Anger from the gangling youths and the weakening olds of that ancient town. And despair from peers and colleagues.
Twice before have I seen such anger in my life; at the death of MKO Abiola and the murder of some Student's Union functionaries of the Obafemi Awolowo University long ago.
The tension in Ido was kinetic, violence was potential. From nearby Ora Ekiti where we stopped for a minute or two, the story was simply this: Ido Ekiti is rumbling. The elements were not in sync, a huge bolt had been unhinged about a week earlier and the smooth ride of the people had been waylaid.
The culprits must be some loose canons who have sold their souls for pittance, merchants of death who have lost all sense of humanity and sanity.
For if they had a modicum of mental awareness, Bunmi Ojo, for whatever reason and at whatever price, ought not to have been used as a pawn in whatever game led to the his murder. As I wrote when the news of his death became public, he had sacrificed too much to be so callously sacrificed.
You and I do not have all the time in the world, else regaling us with Bunmi good qualities would have been necessary. But I will dwell on his bad and by so doing underline the bad side of everyone of us.
Bunmi was an impatient pursuer of good. If the cause is good and the son of Ojo is convinced, he gives and demands action. From our days in the National Association of Nigerian Students NANS, years of 'I no go gree' activism in the Committee for the Defence of Human Rights, and later in life in politics, Bunmi wanted true change and he wanted it as early as yesterday.
What next good was Bunmi keen on effecting? What good did evil people feel he was too committed to be left to attain, we may never know. But I know his effort to get results, legitimate results, could have pitched him with cowardly foes who had only guns as their means of advancing their satanic logic. I could only surmise.
The illustrious son of Ido that was sent home untimely on Friday was also a man who had no stomach for ill will. If Bunmi felt strongly about it, he voiced it passionately, forcefully and immediately. Mark my words, he voiced it, not shoot or fight his way through. I recall his experience with an unserious governorship candidate long ago. The man was giving out pittance to run his campaign office then coordinated by Bunmi Ojo.
"Enisan, your brother will have to run this office himself from now on o, he is quick to spend money on the "bank of the South" and wants me to fuel this campaign with my blood." Next day Bunmi told the man his mind in near exact same words and threw in the towel! The battle was not for himself but the campaign hands then left unpaid after working hard. Speaking hard and timely for others is Bunmi Ojo's other flaw.
Could he have spoken truth to someone in possession of power, who felt silencing him was the just penalty! I pray with all that I have that God will help the Police to unravel who did this, so we can all ask him why this insane murder.
But then, the most grievous of Bunmi's weaknesses is his never holding back anything from charity. As people in my part of town would say, 'he could give away his private part a day to his wedding'. Bunmi gives and never stops giving. Sorry this may sound self promoting, I thought I had that disposition to give freely until I met Bunmi Ojo, some twenty something years ago. As a struggling student, his room, food, toils and means were for all.
I lived with him in his one bedroom mansion in Jos in the 90s. The traffic to and fro his room by everybody else was huge. And the rate of depletion of his meager means geometric. When we had to distribute subversive mobilisation materials around Zone C, for those who know, and we got stuck. We dumped them on Bunmi who effectively got them to the right locations with proofs of delivery.
As he laid there helplessly Friday and thousands of women and youths wept out their stories of his love and kindness, an old woman was of particular interest. She was praying all through the bedlam.
"Your killers will not die, they will live to see your children, real and adopted prosper. They will suffer and find no one to console them, they will be left naked in their old age. They will suffer with the world looking on in joy…" she went and went on in prayers. And then she said, "now who do I go to when everyone else fail? Who Bunmi, Omo Oga Ojo, who?
In her question I found Bunmi's last heinous crime. He had helped too many for those who want others to suffer.
Sadly, Bunmi may have been at it at the expense of his lovely wife and wonderful kids. Pardon me all, Bunmi, like only a few around, may just have been living by the day. He probably made no saving, no arrangements for his children and wife. So, now that he had been brutally hacked, who takes care of these vulnerable souls?
I know many of our friends who have gone home too early like Bunmi Ojo, I know of the harrowing experiences of their families. Of how after the first few weeks, it becomes every man to himself.
That became the trigger to my tears. There is no safety net, no social arrangement and so no provision for kids left in a circumstance like Bunmi's.
Let it be made clear, I have not been asked by anyone to write on behalf of the family. I have not spoken with his wife directly. I am too cowardly to see the children now. I have been weeping on my own. I do not want to add to her grieve now.
I wept for myself and the rest of us on Friday for I know most of us struggle so hard to give back to the society and leave nothing for our families. Death is a certainty, the time and circumstance, factor and method may vary, but what everyone of us must have, is that encounter with death. We may not all be rich, we may not all be healthy, we may not all be propertied, popular or influential. We shall die one day.
So what lessons? Bunmi Ojo's actions and inactions spoke for him in Ido on Friday. The community had been locked down since his murder. Markets closed, dusk till dawn curfew imposed. He lived well from the testimony of all.
We all must endeavor to live well. More than these, we all must ensure that the children he left behind have the opportunity to live well.
This is getting too long, you all must move on to the next thing, Bunmi has become history like all of us will be eventually. What is clear is that time is not yours to waste either. Very soon, you and I will leave this part of the world. What we do or refuse to do today will count for or against us here on earth. Surely too, they will speak for us on the day of judgement. What are you doing with your time?
Goodnight Olubunmi Christopher Ojo, Ido Ekiti's bequest to humanity.
Akinola writes from  Akure