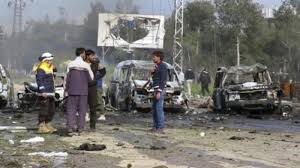 A bomb hidden in an ambulance in Kabul has killed at least 95 people and injured more than 150, the latest in a string of high-profile attacks in Afghanistan, The Guardian report
The explosives according to a report in www.theguardian.com  were detonated at a police checkpoint where the streets are often crowded with people waiting to visit nearby offices, and vendors serving them. Witnesses said bodies were strewn across the pavement.
The deadliest blast occurred in  kabul after May 2017, when a truck bomb killed 150 near the German embassy, not far from from Saturday's attack.
The flood of victims nearly overwhelmed the nearby Emergency hospital, run by an Italian charity, where many victims were taken for treatment.
Dozens were laid out in rows in the hospital courtyard, as medics raced to triage survivors. "It's a massacre," said Dejan Panic, the charity's coordinator for Afghanistan.
The death toll given by the interior ministry spokesman Najee Danish rose rapidly in the wake of the blast, and may climb further. The streets were busy because Saturday is a working day in Afghanistan.
"Many women and children have been killed or wounded, because they were queuing outside the passport department," said Sediqullah Popalzai, a national security official who was passing through a previous checkpoint at the time of the explosion.
"Dead bodies which were near the ambulance were unidentifiable. There were shattered bodies everywhere. It was a very tragic and devastating scene."
The interior ministry and the European Union and Dutch and Swedish embassies are among the buildings along the street that was targeted.