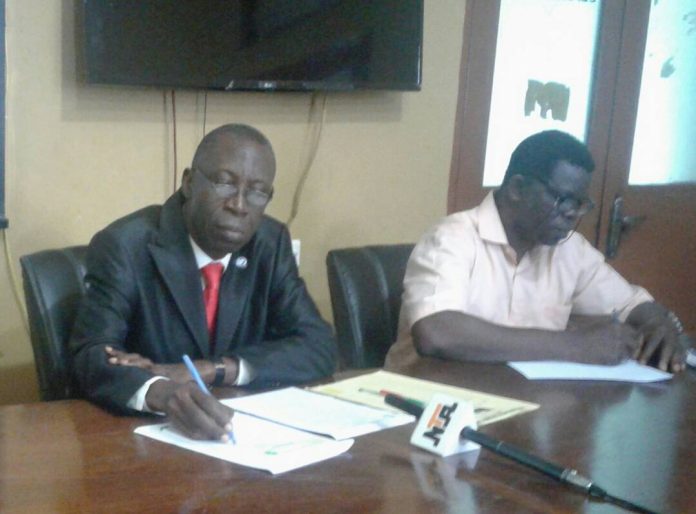 The Professor of Christian Theological Studies and President, The Nigerian Baptist Theological Seminary, Ogbomoso Rev. Prof. Emiola Nihinlola has disclosed that 2018 Ministers' Conference will sharpen spiritual and ministerial skills of the participants.
He said the conference which will start from Monday, September 10th through Thursday, September 14th, 2018 with the theme "God of Covenant" has been planned to update academic and professional knowledge of the gospel minister.
Professor Nihinlola stated this while addressing media practitioners at a press conference for 2018 Ministers' Conference held at the Senate Room, The Nigerian Baptist Theological Seminary, Ogbomoso adding that the conference provide opportunity for fellowship and denominational promotion.
Fielding questions from the journalists on significance of this year's conference, Prof Nihinlola explained that 2018 conference will mark the grand finale of the 120th Anniversary activities which started in November, 2017.
Nihinlola maintained that the objective of the conference is to celebrate the faithfulness of God and to further challenge gospel ministers to be faithful to God.
He further explained that activities of the conference include hymn singing, musical worship, messages, bible teachings, intercessory prayers, football matches and administration of Holy Communion.
Nihinlola who is also the Director, International Council for Higher Education, West Africa Network mentioned that officiating ministers Rev. Dr Samson O. A. Ayokunle, the President of Nigerian Baptist Convention as well as Christian Association of Nigeria; Rev. Dr Olumide Kehinde, Chairman of Nigerian Baptist Convention; Brother Gbile Akanni, Peace House, Gboko.
He said the conference is open to other denomination ministers and as well as Baptist ministers all over the nation and beyond adding that participation of all categories of gospel ministers church pastors, specialized ministers music, education, children, youth, evangelists, missionaries are expected to participate.
The president assured the participants of security of lives and property saying that central planning committee are working tirelessly to ensure successful ministers' conference.