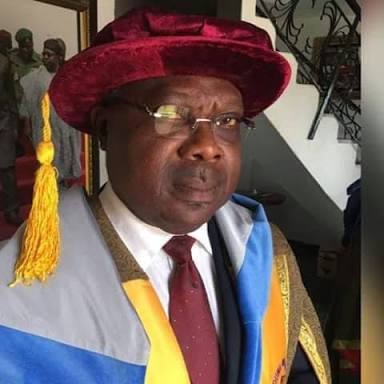 Former  deputy  governor of Osun  state, and one time Chairman Senate Committee on Appropriation, Senator Dr  Christopher Iyiola Ajani Omisore will this Friday, September 15, turns 60years of age .Born to the famous  Omisore dynasty in Ile Ife,Osun state on September, 15, 1957. Chrisore, as foundly called by his admirers is the grandson of Lowa Ajani Anibijuwon  Omisore and the son of the reigning Olu of Ayepe,Olode, Ile Ife,  Oba David Olajide Omisore . He is also the grandson of the Late Olufewara of Ifewara,  Oba Titus Adetoba of the Oseganderuku ruling house in Ifewara where his mother, Princess Emila Adejola ruled as Regent until her death in 2006.
Senator Iyiola Omisore, like many of his kinsmen in the Omisore dynasty of Ogbon Oya, in the ancient city of Ile Ife  had his early part of his life in a very large and extended family where diligence, integrity and community service were part of both his heritage and leadership. Being from a Christian background, Dr Iyiola Omisore played active roles at the SS Peter & Paul Catholic Church Lagere Ile Ife where he  served as an altar boy to the priest during which tolerance for all religions and people. It was at this point that Iyiola started demonstrating the qualities of forthrightness; keen intellect and uprightness which not only set him apart from his peers but prepared him for community leadership and service.
The former deputy governor started his primary education at the SS Peter and Paul Roman Catholic School, Ajigbayin, Ile-Ife and his secondary education at St. John Grammar School, Oke Atan, between 1972 – 1977 and later attended Federal Polytechnic Owo in Ondo State Nigeria.Senator Omisore later sat for and passed his Full Technological Certificate Examinations at the Technology College, Reading UK, and obtained a diploma Certificate in Electrical/Electronics Engineering. He also holds a Bachelor of Engineering Degree in Power and Machines from Brunnel University Uxbridge, United Kingdom, a postgraduate Certificate in Building service and Engineering Management and a Master of Science Degree in Building Services from the same University. Later, he went to Brunel University, Uxbridge, UK where he earned a Post Graduate Certificate in Mechanical Engineering and an M.Sc degree in Building Services Engineering and he at  present,  holds a Ph.D in Infrastructure Finance from the International School of Management, Paris, France and he is currently undergoing his DBA programme at the same institution.
In his pursuit of excellence, the Senator who is equally a Fellow of the Institution of Mechanical Engineers, England and Wales underwent several courses in different high profile institutions. He did the Advanced Budgeting Course at the George Town University, Washington DC, USA; the Appropriations and Public Finance Course at the ABS Academy, Athens, Greece; the Advanced Leadership Course at the University of Carolina; The Innovation and Leadership Course at the West London College; the Public Finance Course at the Harvard University and the Aid Effectiveness and Donour Harmonization Course at the Internationale Weiterbildung und Entwicklung gGmbH, Germany.
In January 2013, he completed and was awarded a Doctorate Degree by the International School of Management in Paris. He majored in Procurement, Taxation, Corporate Governance, Infrastructure finance and Public Private Partnerships. The concept of Public Private Partnerships is a key part of the strategy that has been successfully used to provide affordable infrastructure that meets public needs. The concept combines the best capabilities of the Public and Private sectors for mutual benefit.
Professional Career.
Senator Omisore, an engineer and politician of note, and an astute manager of resources whose attention to detail, calmness, and ability to simplify, and proffer solutions to complex issues is uncommon, is no doubt a major stakeholder in the Nigeria political and economic circle going by his contributions and positive impact into the various vital sectors especially in the growth and development of Nigeria.
Till date, the Apesin Oodua of Ife  is still waxing stronger in the Nigeria politics despite the ups and downs in the Nigeria political arena having being a self sustained politician unlike those the former President, Chief Olusegun Obasanjo once described as " professional politician with no second address as well as no other means of survival than politics as manifested in his key roles in the formation of the Alliance for Democracy (AD), his maintaining and sustainance of his political empire despite all odds in the land especially in these days of economic meltdown. In the Engineering sector, the former deputy governor of Osun state
started his early professional life with the firm of Drake and Gordham while in the UK, in the early Eighties where he received on the job training and rose to top Management positions. The same firm Drake and Scull (Nig) Ltd took him back home to Nigeria where he worked on major Engineering projects, it was while working at Drake and Scull that his project management skills were horned. He later established his own Engineering firms; Mechelec Consultants –an Engineering Consultancy outfit and Chrisore Eng Ltd – an Electrical Engineering firm.
Omisore, a Fellow of the Chartered Institution of Building Services Engineers started his engineering career as project manager with Drake Gordham UK, Plc, in 1983 and was there up to 1985 before returning to Nigeria to join Drake and Scull Nig. Ltd. also as Project Manager. Here, he supervised the construction of 19 airfields including the Makurdi Air Force Base. Apart from these, he supervised other projects like the Sokoto and Makurdi Rice Mills, Taraku Oil Mill and the Sokoto University Teaching Hospital. He was elevated to the post of a General Manager in 1987 and as a General Manager there up till 1999, he handled such projects like the Federal Mortgage Bank Headquarters Building, Onitsha Flour Mills, Bank of The North (Now Unity Bank) Building, Podium Secretariat, Port Harcourt; Eternit, Sapele; World Bank Assisted Health Projects for Plateau, Benue and Nasarawa States and the Imiringi Rural Electrification project now in Bayelsa State., the CBN Governor's/Deputy Governor's Lodges, UACN Commercial Complex, Abuja; Union Bank (Stallion Plaza); UBA Headquarters; EIB Headquarters; Afribank Headquarters; British High Commission, Abuja;Brawal Shipping Lines Office Complex (10 – Story)
In the Nigeria political circle where Senator Omisore still remain a major factor especially in his home state of Osun, his venture into the political began in the transition years of the Babangida administration during which he was involved in the Social Democratic Party (SDP) and later became a member of the Grassroots Democratic Movement (GDM), UNCP in the Late Gen Sanni Abacha years. Under the Gen. Abubakar Abdulsalami transition years, Senator Omisore was involved with the Pan Yoruba group Afenifere (a pre-democratic activist group largely in South west Nigeria), where he was caucus leader for Osun State and the South west region of Nigeria.
While at the upper legislative chamber in Abuja, Senator Omisore distinguished himself not only in name but also by the key positions he held and the achievements recorded. At the Senate, he
became the Chairman, Senate Committee on Industries, 2004 – 2005, Chairman, Senate Committee on Intergovernmental Affairs, 2005 – 2007  Chairman, Joint Finance Committee. Chairman, Senate Committee on Culture and Tourism,
Chairman, Senate Committee on Appropriations (2007 -2011)
Chairman, UNDP/NASS Support Implementation Committee (2007 – 2011), Chairman, Board of Fellows, Institute of Public Administration of Nigeria. Also the Chairman, Senate Committee on Appropriation, he worked with other members of the committee over 4 rounds of national budget reviews and allocation, increasing national investments in infrastructure, economic and social development as well as championing civic engagement in what has become nationally recognized as the 'Inclusive national budgeting initiative'. Using this platform he transformed the appropriations processes into an evidence and people responsive process, taking on publicly solicited citizens and institutional perspectives to guide allocations and appropriations. While this often meant that long and challenging negotiations were required with the executive and implementing ministries departments and agencies.
In 2014, having emerged the Peoples Democratic Party (PDP) governorship candidate, he contested the Osun governorship election ( for the first time)  against the incumbent Ogbeni Rauf Aregbesola during which he came second at the keenly contested poll.Despite, the series of moves by those described as "professional politicians" at sabotaging, halt and distorting  his focus and genuine intention in the political scene, the Ile Ife born political icon remained undaunted in his determinations at getting to the higher political levels both in his home state and the country at large.
As Senator Iyiola Omisore joins the sexagenarian club this Friday, September,15,2017, while joining several other Nigerians in wishing him many happy returns, the fact remains that sky is surely the limit for the political icon as the 2018 Osun governorship election is almost around the corner with Senator Omisore among others preparing fully for the greater challenges ahead.
However, all said and done, the fact remains that Senator Omisore, the Apesin Oodua of the Source, Lisa of Osogboland, Bashorun of Ijeshaland, Asiwaju Balogun of Ibadanland, Akinrogun of Edeland, Maiyegun of Ijero Kingdom,Seriki of Usi Ekiti, Agbaakin of Ila Orangun, Ashipa of Inisha Kingdom, Otunba of Ipetumodu, Akinrogun of Ede
Otunba of Odo-Eku is a personality you dare not ignore easily especially when meeting him for the first time  regardless of your perception or whatever impression you might earlier formed about him as his appearance and display of human relations will instantly put to rest the misgivings and hate speeches about him mostly coming  his political rivals and extranged "friends/associates" especially in the recent time.
Clocking 60years of age is no doubt  of God's grace as it behoves more task especially on the calibre of great men like Senator Omisore,
the Apesin Oodua of the Source,
Lisa of Osogboland, Bashorun of Ijeshaland, Asiwaju Balogun of Ibadanland, Akinrogun of Edeland,
Maiyegun of Ijero Kingdom,Seriki of Usi Ekiti, Agbaakin of Ila Orangun,
Ashipa of Inisha Kingdom, Otunba of Ipetumodu, Akinrogun of Ede
Otunba of Odo-Eku in the task of fending the more for the less privileged in the society.