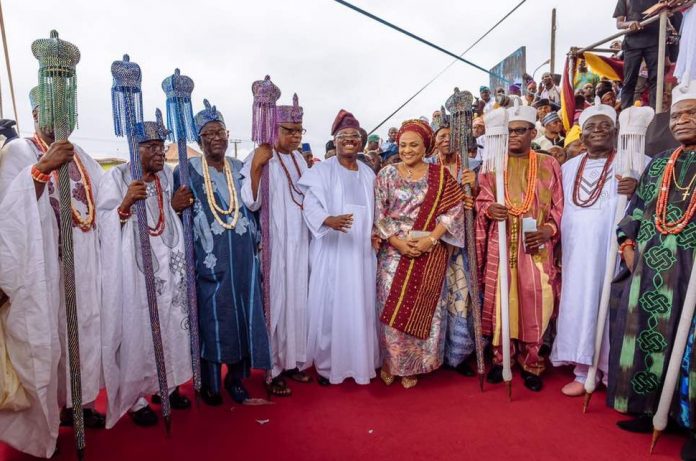 The Ibadan family heads (Mogaji)  in Ibadan have said that the Central Council of Ibadan Indigenes, CCII which yesterday claimed that 90% of Ibadan indigenes back Governor Abiola Ajimobi's chieftaincy review has no capacity to do so, as the CCII is just  an umbrella organisation of socio-cultural clubs and societies.
Spokespersons of authentic Mogaji – Chief Abdul Jelili Karimu, Mogaji Adanla and Chief Olawale S. Oladoja, Mogaji Akinsola from Labiran compound in a press statement signed  and made available to journalists in Ibadan wondered how, when and where the CCII leadership conducted its survey before arriving at such a ridiculous figure of 90%, when town hall meetings were not conducted.
According to them, many Mogaji;s (Family Heads) were terribly scandalized and thoroughly flustered when they learnt of the unfortunate CCII story. Said they: 'As family heads in Ibadan land, we know where the shoes pinch, we know the feelings of our people at the grassroot more than a group of over-fed and vomiting elites.
We wish to make it abundantly clear that we are solidly behind the Olubadan, Oba Saliu Akanmu Adetunji, Aje Ogungunniso 1. '
'Hence, we have the mandate of all our families in Ibadan land to issue a disclaimer. Let us even assume that the CCII has capacity to speak for Ibadan, the leadership is heavily compromised and could not possibly be trusted anymore, because without adequate consultation with over 200 member clubs and societies that make up the council, the CCII leadership went into hot, sizzling romance with the Oyo State Government only to be co-opted into the controversial Boade Panel.
"It is not surprising therefore that having committed the council and its integrity, they have no place to hide except to begin to defend the indefensible.'
'We wish to challenge the CCII to come out in the open and take a walk round Ibadan, saying they are in support of the government's chieftaincy review and wait for public reactions on the matter. As socio-cultural organisations dedicated to drinking beers and pepper soup, the statement of CCII leadership that 90% of Ibadan indigenes endorsed the warrant monarchs by Governor Ajimobi could only have resulted from heavy hang-over. So, they should stop pretending that they are representing Ibadan people, they are representing themselves.
They are out of tune with the feelings of our people'